20. april:
Director: Fernand Melgar, 2011
Documentary, Switzerland, 103 min
Vols spéciaux, or special flights, are the chartered flights used to deport the sans-papiers whose requests for asylum in Switzerland have been refused. Sometimes, after years spent on Swiss territory, these men must abandon not only their hopes of a better life, but friends and families as well. The deportation notice is sudden, its execution rapid and without appeal. In the Frambois detention centre, residents lie in wait of expulsion, despair and humiliation.
After La forteresse (Grand Prix RIDM 2008), on the conditions in which refugees are received, Fernand Melgar turns his gaze to the final step in a failed migration. With the delicacy that made his name, he conveys to us the unbearable tension, but also the gentle moments of humanity between inmates, and the guards sincerely concerned with their fate.
More about the movie on http://www.volspecial.ch/en/
Filmvisning: Vol Spécial / Special Flight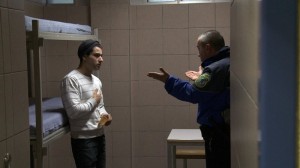 20. april:
Regi: Fernand Melgar, 2011
Dokumentar, Sveits, 103 min
Vols spéciaux, eller spesielle flyvninger, er charterflyvningene som brukes til å deportere papirløse som har fått avslag på sine asylsøknader i Sveits. Iblant, etter å ha tilbrakt år på sveitsisk territorium, må disse mennene forlate ikke bare sine håp om et bedre liv, men venner og familier også. Varslet om en deportasjon kommer plutselig, gjennomføringen er hurtig og uten ankemulighet. I interneringssenteret Frambois ligger beboerne i påvente av utvisning, fortvilelse og ydmykelse.
Etter La forteresse (Grand Prix RIDM 2008), som handlet om omstendighetene rundt hvordan flyktninger mottas, vender Fernand Melagar sitt blikk mot det siste steget i en feilslått migrasjon. Med den samme finfølelse som ga ham et navn, viser han oss den uutholdelige spenningen, men også de fine øyeblikk av menneskelighet mellom insatte, og vaktene som er oppriktig engasjert i deres skjebne.
Mer om filmen på http://www.volspecial.ch/en/